We're launching our very first Badge Program
at the Mission Leisure Centre!
Stay Tuned for the October launch of the Badge Program at
Maple Ridge Recreation Centre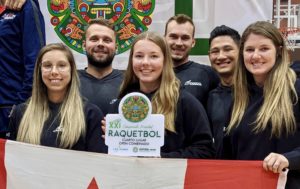 WINNIPEG (August 27, 2022) – After winning medals in four events, Team Canada is celebrating its best results at the World Championships in a decade. "We
Read More »
BC is already on to Stage 3 of the Return to Play Guidelines, which is great news for our sport!
Check out the news post here and click on the blue COVID-19 & Return to Play button just below to find all the latest information!
Check out our overview of recent rules changes and why they've been implemented!
Official Sponsors & Partners


For help or advice contact the Safe Sport Helpline operated by the Sport Dispute Resolution Centre of Canada (SDRCC).
To make a complaint regarding Racquetball Canada staff or volunteers to an independent third party, please contact the Safe Sport Officer at: